Testimonials
Madam, reached Kolkata. This is for your information & a big thanks for the entire Rajasthan trip and...
— Ganesh Palit
Thanks for the Thailand tour arrangements, we returned safely....
— Patralika Banerjee
All arrangements against Himachal tour May19 were very good. We enjoyed the trip very much. Link India...
— AMITAVA BANERJEE
In Jun'19 Kinnaur tour completed nicely & enjoyed a lot. Thank you Link India Tours & Travels....
— Dr Biswajit Dey
Read More[+]
Agartala > the capital of Tripura is arguably one of the most diversely populated cities of India. Tripura has always been a home to various mixes of tribes and all these tribal amalgamation has led to an influx of people representing their own clan. Agartala, with its verdant forest cover, near perfect green backdrop, great tourist sites and laid back attitude presents a sight of an ideal tourist destination. The rich and varied tribal culture thriving on the high mountains and vast and alluring green valley adds its own charm to the attraction of the state.
Agartala has got a mixed type of religion and is similar as compared to the other states of India. Hinduism is the dominant religion and there are many temples across the city. The Durga Puja season is generally the busiest time of the year and one can then experience the richness of Indian cultural extravaganza. Agartala is also known for its tribal festivals like Kharchi and Garia Puja.
►Places to Visit:
Heritage Site:
Ujjayanta Palace:

Palace of the Tripura kings, was converted to state legislative assembly & now into a museum, situated in the area of Palace Compound is one of the eye catching attraction in the state. Its a former royal palace in Agartala, the capital of the Indian state of

Tripura

, and also served as the meeting place of the Tripura Legislative Assembly until 2011. The name Ujjayanta Palace was given by the famous port

Rabindranath Tagore

, the famous poet visited the state of Tripura quite a certain amount of times, he had a different heart for this kingdom and loved it a lot. Maharaja

Bir Bikram

was the last king of Tripura who ruled the state and was also the last king who stayed in his house in the palace.
​Others attractive places in Agartla:
State Govt. Museum

Rabindra Kanan

Nehru Park

Jagannath Temple

Uma Maheshwar Temple
Benuban Bihar
Haveli Museum
Laxmi Narayan Temple
Purbasa
​​♦ Accommodation booked by us: GEETANJALI TOURISM GUEST HOUSE, Agartala (TTDC)
Religious Site:
UDAIPUR
Udaipur is a town and a nagar panchayat in the Indian state of Tripura. This city is famous for the Tripura Sundari temple. It is also the head-quarters of Gumati district. Udaipur is about 55 km from Agartala, the capital of Tripura. There are lots of artificial lakes (namely Kalyan Sagar, Mahadev Dighi, Jaganath Dighi, Amar Sagar & Sukh Sagar). Udaipur is the 3rd largest town of tripura followed by Agartala and Dharmanagar on the bank of Gumati river.
Attractive places in Udaipur:
Udaipur is dotted with temples the most famous of which is the Tripura Sundari Temple, which is one of the 51

Shakti Peethas

. The temple was constructed by Maharaja

Dhanya Manikya

Debbarma

in 1501. There is a big lake beside the temple known as Kalyan Sagar.
​
Jagannath-Badi Temple

Mahadev-Badi Temple

Satsanga Bihar, Udaipur

Loknath Temple

Ramkrisna Asram

Basanti Mandir

Ramthakur Asram

Mahamuni Buddha Temple
♦ Accommodation booked by us: GOMATI YATRI NIWAS, Udaipur (TTDC) - GUNABATI YATRI NIWAS, Udaipur (TTDC)
Archaeological Site:
​UNAKOTI
Unakoti means one less than a crore. About 186 km. from Agartala, Unakoti is an important site of archaeological wonder.
♦ Accommodation booked by us:
UNAKOTI TOURIST LODGE, Kailashnagar
PILAK
Pilak is an archaeological site in the Belonia subdivision of South Tripura district of the Indian state of Tripura. Many idols and structures, belonging to Buddhist and Hindu sects, have been discovered there since 1927.
Distance from Agartala 114 km, Udaipur 62 km & Jolaibari 2 km
♦ Accommodation booked by us: PILAK TOURIST LODGE, Jolaibari (TTDC)
Eco-Nature Site:
BEAUTY OF JAMPUI HILLS
Jampui Hills is located in the north eastern part of Tripura state bordering the state Mizoram in the east. Jampui Hills can be accessed by road from Dharmanagar and Kailashahar via Kanchanpur.
ACCESS INFORMATION: It can be accessed from Mizoram through Tuipuibari towards the South and from Kanhmun towards the North. Also, Helipad is available at Vanghmun and at Phuldungsei where Helicopters can land with ease. From Agartala 220 km, Dharmanagar 117 km, Kailashahar 106 km, Kumarghat 75 km.
FESTIVALS: During November every year, the unique Orange & Tourism festival is celebrated in the Jampui hill. A large number of tourists, both domestic and foreign, participate and enjoy this festival. However, due to spread of orange disease like milky dew, dieback, and attack by pests, about two-third of the orange plantations has been wiped out.
TOURIST ATTRACTIONS:
Jampui hill is a real tourist paradise which attracts a large number of tourists with its virgin forests and peaceful and eco-friendly ambience including beautiful orchids and colourful dance & music. Being sparsely populated it provides an ideal opportunity for leisure tourism.The tourist can visit the scenic villages, meet the people, interact with them and explore their culture and traditions.One can experience age old cultures and beautiful local dances like Cheraw " Bambo dance" as is widely known.
♦ Accommodation booked by us: EDEN TOURIST LODGE, Vanghumn (TTDC)
BARAMURA ECO PARK
Baramura Echo Park is a perfect example for this type of place. Baramura is an important hilly range in Tripura and it is completely covered by forests. Different types of trees, flowers, orchids make this place very beautiful and unique. A part of this range is now developed as a park named 'Baramura Echo Park'. It is a perfect place for children enclosure, jungle tracking, and picnic arrangement. The main attractions of this place are it's unique small hut structured small cottages, wooden bridges which connect different spots together, 'Hawa Ghar' made by tribal people.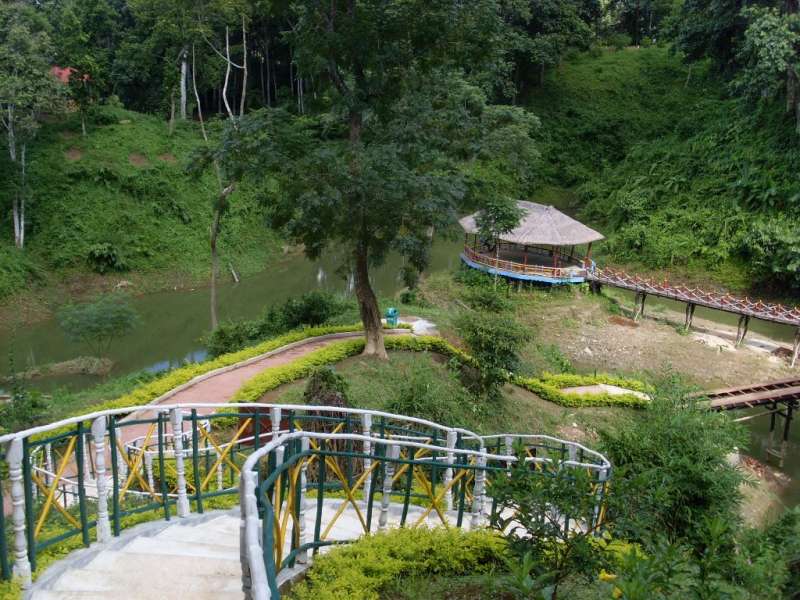 ACCESS INFORMATION: This place is 40 km away from capital Agartala by 44 no. national highway (NH 44) which connect Agartala (37 km) to Guwhati via Shilong. Local buses are available from chandrapur bus stand which is 5 km away from Agartala city. Otherwise people can hire a car to visit that place. It will take one hour to reach there in Echo Park by personal vehicle. And the cost depends on the vehicle choice and price of fuel.
♦ Accommodation booked by us: GEETANJALI TOURIST GUEST HOUSE, Kunjaban, Agartala (TTDC)
SEPAHIJALA WILDLIFE SANCTUARY
The Sepahijala Wildlife Sanctuary is located at a distance of 35 km from Agartala. It is spread over an area of 18.5 sq kms. The Sanctuary boasts of an affluent congregation of wildlife, especially birds and primates. The Sanctuary also house Botanical garden, zoo, a lake and abundance of diverse species of trees. The sanctuary has no less than 456 plant species & one can find nearly 4500 cubic metres per hectare of timber biomass.
BEST TIME TO VISIT: The terrain is absolutely green throughout the year and so is the beautiful weather except for the two humid summer months of March and April.
ACCESS INFORMATION: Sepahijala Wildlife Sanctuary can be reached from Agartala. The nearest railway stations are Kumarghat, about 160 km from Agartala and Dharmanagar, 200 km away. And by air, Agartala airport is connected to Indian cities Kolkata and Guwahati.
♦ Accommodation booked by us: LAKE VIEW RESORT, Tourist Lodge (Abasarika) & FOREST REST HOUSE (Cottage) (TTDC)
Others attractive nature sites:
Rowa Wildlife Sanctuary (From Agartala 175 km, Kailashahar 60 km)

Khumulwng Eco-Park (From Agartala 22 km, Jirania 4 km)

Gomati Wildlife Sanctuary (From Agartala 110 km)

Tepania Eco-Park (From Agartala 47 km, Udaipur 5 km)

Kalapania Nature Park (From Agartala 116 km, Jolaibari 4 km)

Trishna Wildlife Sanctuary (From Agartala 111 km, Udaipur 60 km, Belonia 19 km)
​Water-Heritage Site:
NEERMAHAL
Neermahal, the iconic red and white palace on the famed Rudrasagar Lake here in West Tripura, has become a tourist hot spot, a long 81 years after it was built. Taking note of its rising popularity among tourists, the Centre has decided to provide money for a facelift of the palace built by Maharaja Bir Bikram Kishore Manikya Bahadur in 1930 A.D. It is a fascinating sight to view the reflection of the palace on the placis water of the Rudrasagar lake.
FACILITIES: For boating & water sports are availbale & boat festival is held every year in Rudrasagar in the Month of July / August.
ACCESS INFORMATION: From Agartala 53 km, Udaipur 20 km, Melaghar 2 km
♦ Accommodation booked by us: SAGAR MAHAL TOURIST LODGE, Melaghar (TTDC)

Another attraction is DUMBOOR LAKE - charming water body located in Amarpur Sub Division & from Agartala 115 km. (From Udaipur 63 km, Amarpur 34 km). There is a hydel project near the lake where the river Gomati originates & the area is called Tirthamukh WHERE A BIG FAIR - Mela is held every year on Pous Sankranti on 14th January.
♦ Accommodation booked by us: SAGARIKA PARJATAN NIWAS, Amarpur (TTDC)
Authorised Booking Agent of
All rights reserved LINK INDIA TOURS & TRAVELS.
Best viewed with Google Chrome in 1024x768 pixels resolution. Created & Cared by Techno Developers Group.