Testimonials
Dear lady #Sunanda Dubai trip was our dream…n we able to achieved this dream due to you only… you...
— Madhurima Dutta
Madam, reached Kolkata. This is for your information & a big thanks for the entire Rajasthan trip and...
— Ganesh Palit
Thanks for the Thailand tour arrangements, we returned safely....
— Patralika Banerjee
All arrangements against Himachal tour May19 were very good. We enjoyed the trip very much. Link India...
— AMITAVA BANERJEE
Read More[+]
:: Destination Overview ::
The best beaches to visit on Neil Island are – Bharatpur, Sitapur & Lakshmanpur. Among them, Sitapur is considered to be the best. Neil Island is being considered as another 'Havelock in the making'. But we really leave it up to you to decide. It has a small village life with most people occupied with Agriculture or tourism activities. Neil Island is yet another place which is considered ideal for eco-tourism owing to the lush green paddy fields, banana plantations and tropical trees. Sporting activities are picking up pace at Neil Island with a dive center coming up soon. There are a number of private resorts opening up, but for now the Hawabill Nest is the most popular one. It belongs to the Govt. of India.
:: ACCESS INFORMATION ::
One can reach Neil Island by taking an early morning boat from the Phoenix Bay jetty at Port Blair at 6:30am every morning. (Single sailing every day, subject to weather conditions)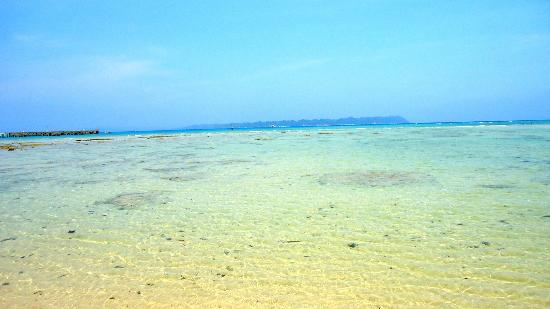 :: PLACES TO VISIT IN NEIL ISLAND ::
Sitapur Beach

(This beach is exposed to the open sea and thus prone to higher tides. It is 5 km south and at the tip of the island. This beach is best suited to watch Sunrise in the backdrop of natural vegetations & limestone formations. The journey from the Jetty to Sitapur beach itself is refreshing with green fields and variety of crops.)

Laxmanpur Beach

(A secluded beach, Lakmanpur, lies 2 km north of Neil jetty. The beach is a broad spur of white shell sand with shallow water offering good snorkeling. Sun basking & swimming are other options. One can view spectacular sun sets from this beach.)

Bharatpur Beach

(Bharatpur is one of the best beaches known for swimming & coral watching with vast sandy stretch. This beach is ideally recommended for youngsters because of activity options. One can avail from here glass bottom boats for coral viewing. The private operators charge Rs.100/- from person for a 10 minutes ride in glass bottom boats .The Sea around the Jetty area is full of corals with schools of fishes swimming around. The vegetation along the beach is simply soothing.)

Howrah Bridge

(This is a natural rock formation at Neil Island. This place has been locally referred to as Howrah Bridge.)
:: Destination Overview ::
Mayabunder is situated in the Northern part of Middle Andaman at a distance of 242 km by road and 130 kms by sea from Port Blair. This place is known for its cultural eccentricity due to the presence of Burmese and East Pakistani settlements. The beaches have a mangrove ecosystem which not only appeals the eco-friendly tourists but also attracts the general eye. The best beaches of Mayabunder are Avis Island which is a 30 minute boat ride from Mayabunder and Karmatang which is 13 kms away from Mayabunder. Karmatang is also a turtle nesting ground and if one is visiting during the December – February season; this very interesting national geographic scene could be witnesses live! Kalighat creek, situated on the way to Mayabunder from Diglipur is an interesting place to visit.
:: ACCESS INFORMATION ::
There are two boats (ship vessels) for Mayabunder in a week. One on Monday (6:00am) and another one on Friday (7:00am). However many buses are available for Mayabunder everyday and it takes about 8-9 hours in the bus to reach Mayabunder from Port Blair. The buses start leaving Port Blair early in morning at 3:45am and are available till 11:00am.
:: PLACES TO VISIT IN MAYABUNDER ::
Karmatang Beach

(Karmatang Beach which is surrounded by natural beauty from all sides has a very calm and quiet environment. The beach which is famous for the turtles is a perfect retreat for the city dwellers who visit the beach for small vacations. The weather of the Karmatang Beach is very pleasant.)

Various Creeks

(Various Creeks including Austin Creek offer a lifetime experience of cruising through the evergreen mangrove fringed creek, with exotic flora and fauna all around. These are ideal for nature lovers, bird watchers, research / education oriented tourists, who are also sensitive to ecology.)

Avis Island

(Avis Island is a small beautiful island also known as Coconut Island. This island 15 minutes by boat ride has a mini beach with crystal clear water and is an ideal picnic spot.)
:: Destination Overview ::
Diglipur is the largest and farthest town located in the North Andaman Islands. It is more like a division or a county. It is 300 kms by road and 180 kms by sea from Port Blair which means a road trip might take the whole day. Yet, the beauty of Diglipur makes the escapade from the daily routines to this pristine place a worthy holiday.
There are a whole lot of places to explore in and around Diglipur.Andaman Islands have only one river 'Kalpong' which flows through Diglipur and sustains the first and the only hydroelectricity project of the archipelago. The twin islands called Ross & Smith Islands, connected by a thin sand bar, are just a half an hour journey from Diglipur. A fascinating and must visit place, Ross & Smith and the Ramnagar Beach are famous for turtle nesting during December to February.
Then we have the Diglipur National Park also known as the Saddle Peak National Park which is a dense tropical forest with a huge population of exquisite trees (sandal being one of them). The park also offers trekking and hiking options. The Saddle Peak is the highest point in the Gulf of Bengal. At 732 m (4500 feet), it provides an excellent aerial view of Andaman & Nicobar Islands.
:: PLACES TO VISIT IN DIGLIPUR ::
Ramnagar Beach

(Ramnagar Beach of Andaman and Nicobar Islands is situated in the northern region at the Diglipur Island and is accessible through water and road. The sandy beach is only 15 kilometres away from Kalighat. The beach is surrounded by palm and coconut trees and other coastal shrubs.)

Ross & Smith Island

(Ross and Smith Island (Smith and Ross) are about 25 minutes by boat from Diglipur in North Andaman Islands (Andaman & Nicobar). Though these are commonly referred to as twin islands, they are actually a single island separated by a sandy stretch which makes it appear like two separate islands.)
Authorised Booking Agent of
All rights reserved LINK INDIA TOURS & TRAVELS.
Best viewed with Google Chrome in 1024x768 pixels resolution. Created & Cared by Techno Developers Group.