Testimonials
Madam, reached Kolkata. This is for your information & a big thanks for the entire Rajasthan trip and...
— Ganesh Palit
Thanks for the Thailand tour arrangements, we returned safely....
— Patralika Banerjee
All arrangements against Himachal tour May19 were very good. We enjoyed the trip very much. Link India...
— AMITAVA BANERJEE
In Jun'19 Kinnaur tour completed nicely & enjoyed a lot. Thank you Link India Tours & Travels....
— Dr Biswajit Dey
Read More[+]
The Royal ~ Rajasthan
The state of Rajasthan - " The Land of Kings" , lies in the south-western part of the Northern Plains & largest - most vibrant State. One of the world's oldest mountain ranges, the Aravalli Range, cradles the only hill station of Rajasthan.The landscape is dotted with island palaces shimmering on idyllic blue lakes; temples and fortresses situated on hilltops of the rugged and rocky Aravalli. Situated on the Thar Desert, Rajasthan protects the western border of the country standing as the sentinel who never tires. Rajasthan is diagonally divided into the hilly and rugged southeastern region and the barren Thar Desert, which extends across the border into Pakistan.Takes you on a journey, unforgettable. The land of legends charms every soul with its rich history, majestic monuments, colourful culture, lively festivals & adventurous getaways. Rajput dynasties and well laid out gardens with pavilions and kiosks, all of which add to the splendor and whimsical charm of this majestic land. Even the main tourist attractions are color-coded like "Pink City(Jaipur)", "White City(Udaipur)" and "Sun City/Blue City(Jodhpur)." However, its colourful fairs and festivals, its tempting cuisines, and above all, its inviting and cheerful people. Rajasthan is truly one such stop to experience all the hues of a healthy culture.
:: Culture of Rajasthan :: Rajasthan is known for its traditional and colorful art. The inhabitants of Rajasthan are friendly and
amiable who welcome every visitor with open arms. Like the
whole of India, Rajasthan also displays unity in diversity. Rajasthani dances are essentially folk dances tracing their origin to rural customs and traditions. Folk music is a vital part of Rajasthan culture. Songs are used to tell the legendary battles of Rajputs. The handsome, hawk-like face of a Rajput man, fiercely mustachioed, regally turbaned, reflecting an arrogance and power that can be traced several
centuries back. Rajasthan is full of colorful sweep of a excellent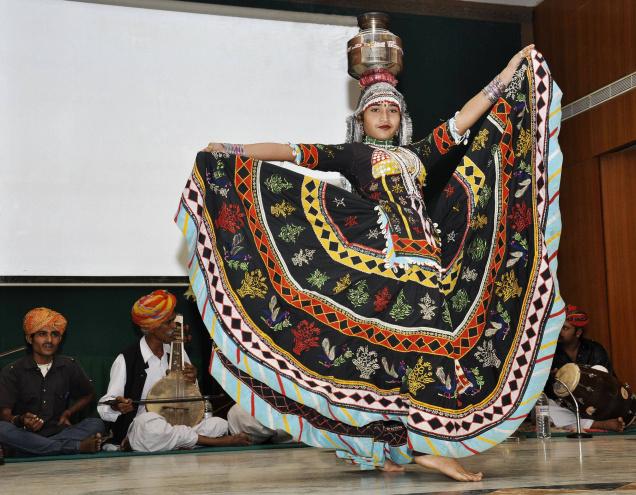 painting, depicting sword-bearing clans going off to battle, rainbow-hued dupattas, ghagras and cholis, traditional art, lovely ornaments & highspirited people form the soul of this land's art & culture. All together add to attractions of this wonderland we call-Rajasthan.
:: Cuisine & Royalty of Rajasthan :: Rajasthan is the home of India's most delicious food, fine royal dining, exquisite restaurants, local delicacies and gastronomic delights. is particularly colorful with the use of spices like yellow turmeric and red chilli making up for the drab monochromatic landscape of the desert. The bati was a popular dish used by the Rajputs during battles where the part cooked batis were buried in spots of the desert to be retrieved in times of long marches. The hot sand would act like an oven and bake these. They were broken and eaten with pouring ghee over them. The popular dals in the region are ahar (tur) dal, moong dal and panchmel (combinations of 5 dals).
:: Rajasthan Wildlife :: Rajasthan is also noted for National Parks and Wildlife Sanctuaries.
There some national park and wildlife sanctuaries named the Sariska Tiger Reserve of Alwar, Ranthambore National Park of Sawai Madhopur, and Desert National Park of Jaisalmer. Ranthambore National Park and Sariska Wildlife Sanctuary are both known worldwide for their tiger population and considered by both wilderness lovers and photographers as the best places in India to spot majestic Indian tigers.
:: Weather :: The state of Rajasthan located in the western part of India has varying climate like its varying topography. The rocky Aravali, the western arid plains, the eastern fertile plains experiences different climatic conditions.
*April - June is the summer season when temperatures go up to 46°C || * July to September is the monsoon period which sees rainfall, temperatures between 35°C to 40°C || * October & November are the monts when the climate is pleasant (18°C to 36°C) || * December to March is the winter season, which sees temperatures falling to freezing in some parts. But December & January is the most coldest monts in the year's.
:: Access Information ::
Air :: There are three main airports at Rajasthan- Jaipur International Airport, Udaipur Airport, and Jodhpur Airport. These airports connect Rajasthan with the major cities of India such as Delhi and Mumbai.
Rail :: Rajasthan is well connected with the main cities of India by rail i.e Jaipur, Alwar, Kota, Bikaner, Ajmer, Udaipur, Abu Road and Jodhpur are the principal railway stations in Rajasthan.
Road :: Rajasthan is connected by many national highways. Most renowned being NH 8, which is India's first 4–8 lane highway.to the main cities of the country including Delhi, Ahmedabad and Indore by State.
Authorised Booking Agent of
All rights reserved LINK INDIA TOURS & TRAVELS.
Best viewed with Google Chrome in 1024x768 pixels resolution. Created & Cared by Techno Developers Group.