Testimonials
Madam, reached Kolkata. This is for your information & a big thanks for the entire Rajasthan trip and...
— Ganesh Palit
Thanks for the Thailand tour arrangements, we returned safely....
— Patralika Banerjee
All arrangements against Himachal tour May19 were very good. We enjoyed the trip very much. Link India...
— AMITAVA BANERJEE
In Jun'19 Kinnaur tour completed nicely & enjoyed a lot. Thank you Link India Tours & Travels....
— Dr Biswajit Dey
Read More[+]

---
Set in the Indian Ocean in South Asia, the tropical island nation of Sri Lanka has a history dating back to the birth of time. The chronicled history of Sri Lanka dates back to over 2,500 years. Due to its strategic location in the Indian Ocean, the country had established trade and cultural links with many ancient civilisations. Throughout history, it has been known by different names. To the Greeks it was Taprobane, to the Arabs Serendib and Ceilao to the Portuguese! The Dutch and the British called it Zeylan and Ceylon respectively. Its present name, Sri Lanka stands for "The Resplendent Isle".
Sri Lanka Tour
Duration : 06 Nights / 07 Days
DAY 1 :: AIRPORT - PINNAWALA - HABARANA
Meet and assist on arrival. Transfer from Airport to Pinnawala.
The Pinnawala Elephant Orphanage provides visitors with the best chance of seeing a large number of elephants at close quarters. The orphanage was established in 1975 and commenced with seven orphaned elephants. Today some of these orphans enjoy the fortune of seeing their calfs born in the same location. Assisted by local and foreign elephant experts, Pinnawala commenced a successful captive breeding programme and the first baby elephant was born in 1984. It is most interesting to visit at feeding time to see the baby elephants being bottle fed and the entire herd taken for a bath thereafter to the river nearby. Transfer from Pinnawala to Habarana.
DAY 2 :: HABARANA - TRINCOMALEE
Transfer from Habarana to Trincomalee.
One of the world's finest natural, deep water harbours, Trincomalee is also home to some of the best beaches in the world (i.e. Nilaveli, Uppaveli and Pigeon Island). Trincomalee city is located on a peninsula which divides the inner and outer harbours. Historically referred to as 'Gokanna' or 'Gokarna', it has been a sea port that has played a major role in the maritime and trading history of this country. The Koneswaram Temple, Dutch Fort, harbour, beaches and hot springs (Kinniya) are some of the major highlights of the city.
DAY 3 :: TRINCOMALEE - KANDY
Transfer from Trincomalee to Kandy.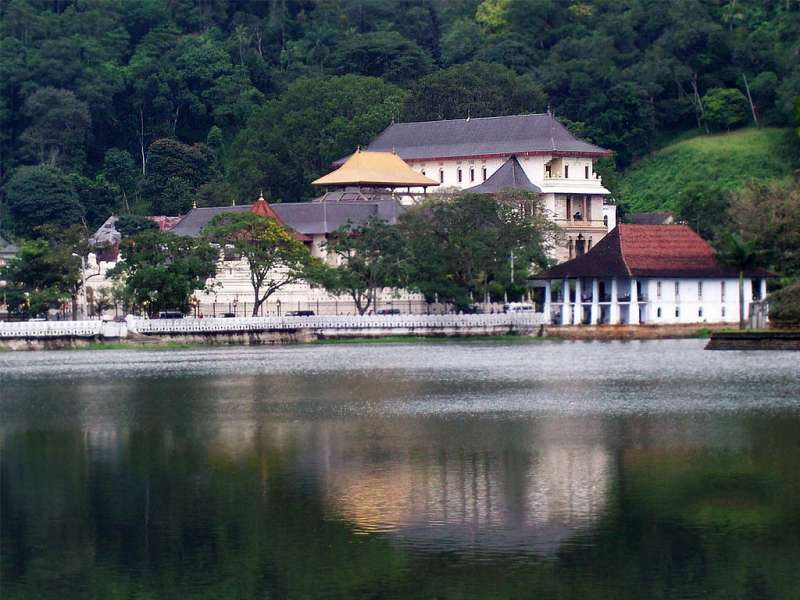 The World Heritage Site, Kandy, was the last capital of the Sri Lankan Kings, before the country was brought under British rule in 1815. Famous for its rich heritage and splendour, this magnificent city was last ruled by Sri Wickramarajasinghe. The Temple of the Tooth Relic is the most significant highlight of the city along with the Kandy lake, the town and other attractions.
DAY 4 :: KANDY - NUWARA ELIYA
Transfer from Kandy to Nuwara Eliya.
Visit Sri Baktha Hanuman Temple ~ On these hills of Ramboda where Hanuman was searching for Sitadevi, Chinmaya mission of Sri
Lanka built a temple with Hanuman as the presiding deity.On every full moon day special pooja's are conducted and witnessed by thousands of devotees. The image of Lord Hanuman here is 16 feet.
Visit Gayathri Peedam Temple ~ Gayathri peedam is believed to be the place from where King Ravana's son Meghanath propitiated Lord Shiva with penance and pooja's and in turn was granted super natural powers by Lord Shiva. This is the first and the foremost temple built for Gayathri Amman in Sri Lanka, and the Shiva Lingam found in this temple was brought from the holy river Narmada.
Nuwara Eliya has earned a reputation for itself as a preferred destination in the hill country by tourists and locals alike because of its incredibly cool climate and amazing sceneries. Whilst delighting travellers with its awe-inspiring beauty, Nuwara Eliya is also home to one of the finest 18-hole golf courses in South Asia. This town plays a pivotal role in the world¿s tea industry as the produce of this region alone accounts for a substantial portion of tea exports.
DAY 5 :: NUWARA ELIYA - HAKGALA - NUWARA ELIYA
Transfer from Nuwara Eliya to Hakgala.
Located within close proximity to Nuwara Eliya town is the famous Hakgala Botanical Gardens, where you will find an unbelievable selection of plants and flowers that are guaranteed to please your senses. Legend has it that these were once the pleasure gardens of Ravana, of the epic Ramayana. The British period saw the expansion of these gardens, and they now boast a wonderful variety of orchids among other floral classics.
Visit Seetha Amman temple ~ there is a stream by the side of the temple. Sitadevi said to have bathed in this stream. It is interesting to note that foot prints akin to Lord Hanuman's are found by this river and some are of small size and some are of large size, which tells us of the immense powers of hanuman transforming himself into any size.
Visit Hakgala Botanical Garden ~ the Hakgala botanical Gardens was one of the pleasure gardens of King Ravana of the well-known epic Ramayanaya. This garden was expanded during the British period and has a wide variety of flowers including an excellent collection of orchids.
Visit Divurumpola Temple ~ this is the place where Sita underwent "Agni" test. Sita reached her husband. Meeting him after such a long time, she ws overcome by joyous emotion. But Rama seemed to be lost in thought. Transfer from Hakgala to Nuwara Eliya.
DAY 6 :: NUWARA ELIYA - COLOMBO
Transfer from Nuwara Eliya to Colombo.
Colombo is the trade capital of Sri Lanka, and is a city that has undergone rapid changes. While most old buildings have been replaced by new apartments and office buildings, some parts of the city yet retains its old charm. The 100 year old clock tower built by the British and some colonial buildings remain examples. The Independence Square, Nelum Pokuna, Pettah Bazaar and BMICH are some of the main highlights of the city. Colombo also provides ample entertainment in terms of an active night life as well as a shopping experience you'd never forget. Panchamuga Anjaneyar Temple - A temple dedicated to Anjaneyar temple in Sri Lanka. The only temple in the world to have a chariot for Anjaneyar.
DAY 7 :: COLOMBO - AIRPORT
Transfer from Colombo to Airport for departure.
---
:: Visa Formalities ::
The Validity of the passport should be 06 months from the date of departure.
Please note all clients will have log into the website and obtain the visas prior to arrival in Sri Lanka excluding citizens from Singapore and Maldives. The government has informed that all applications will be processed within 48 hours and payment can be made on-line by credit card.
The details are available at the website www.eta.gov.lk
---
:: Airport Tax ::
Cost of Airport tax is included to the flight ticket. However, this could differ for Charter flights.
---
:: Public Holidays in Sri Lanka ::
:: Month / Date ::

:: Weekday ::

:: Holiday Name ::

September - 08

Monday

Binara Full Moon Poya Day

October - 05

Sunday

Id-Ul-Alha (Haji Festival Day)

October - 08

Wednesday

Vap Full Moon Poya Day

October - 22

Wednesday

Deepawali Festival Day

November - 06

Thursday

II Full Moon Poya Day

December - 06

Saturday

Unduvap Full Moon Poya Day

December - 25

Thursday

Christmas Day

* *

Generally shops & businesses are closed on Poya days

.
---
:: PROHINITION OF ALCHOL ::
Please note alcohol will not be served in public areas in hotels and restaurants during religious holidays.
---
:: AIRLINE OPERATING TO SRI LANKA ::
Air Arabia, Air Asiax, Air India, Air India Express, British Airways, Cathey Pacific, China Eastern Airlines, Emirates, Etihad Airways, Fly Dubai, Jet Airways, Korean Air, Kuwait Airways, Malaysian Airlines, Maldivian, Mihin Lanka, Oman Air, Qatar Airways, Royal Jordanian, Saudi Arabian Airlines, Singapore Airlines, Spice Jet, Sri Lankan Airlines, Thai Airways, Turkish Airline, Wind Rose Aviation.
---
:: ATTIRE ::
Visitors of both genders have to wear decent clothing to cover the body appropriately when visiting religious places and shorts and sleeveless tops are not acceptable. This rule is strictly adhered to at all religious sites especially the Sacred Bo Tree and Stupas in Anuradhapura and the Temple of the Tooth in Kandy.
Visitors should remover hats, caps, shoes and slippers when entering buildings and sites with religious monuments. Most of these places have a secure facility at the entrance for visitors to leave behind shoes and slippers for a very small fee.
---
:: Language :: The most commonly-spoken languages in Sri Lanka are Sinhala, Tamil and English. However, many travellers to this country have been pleasantly surprised to see that most people at least speak a few of English.
---
:: Currency :: The Sri Lankan Rupee (Rs.) is divided into 100 cents. The coins and notes fall into the following denominations:
Coins: 1 Rupee, 2 Rupees, 5 Rupees and 10 Rupees
Notes: 10 Rupees, 20 Rupees, 50 Rupees, 100 Rupees, 500 Rupees, 1,000 Rupees, 2,000 Rupees and 5,000 rupees
:: Point to Note ::
** Optional excursions and customized package tours is available with us.
Authorised Booking Agent of
All rights reserved LINK INDIA TOURS & TRAVELS.
Best viewed with Google Chrome in 1024x768 pixels resolution. Created & Cared by Techno Developers Group.