Testimonials
Madam, reached Kolkata. This is for your information & a big thanks for the entire Rajasthan trip and...
— Ganesh Palit
Thanks for the Thailand tour arrangements, we returned safely....
— Patralika Banerjee
All arrangements against Himachal tour May19 were very good. We enjoyed the trip very much. Link India...
— AMITAVA BANERJEE
In Jun'19 Kinnaur tour completed nicely & enjoyed a lot. Thank you Link India Tours & Travels....
— Dr Biswajit Dey
Read More[+]
TRIPURA - the State of Fullness
The beautiful Tripura, state of India & second smallest State of the Indian Union. It is located in the northeastern part of the subcontinent. It is bordered to the north, west, and south by Bangladesh, to the east by the state of Mizoram, and to the northeast by the state of Assam. The capital is Agartala, near the Bangladesh border in the northwestern part of the state. This panoramic tiny State is inhabited by 19 ethnic tribed, Bengali & Manipuri etc. communities. Blessed with Scenic Beauty, Ancient Palaces, Museums, Hill, Gardens & Temples will find Tripura a small Gem.
►Climate
The warmest months in Tripura are April and May. In Summer: Max - 36°C Min - 21°C / Winter - Max - 27°C - Min 4°C. Throughout the year, it is cooler in the hill regions. Best season to visit during September to March.
►
People
In the tiny state of Tripura, we now find no less than 19 scheduled Tribes. However, the majority community belongs to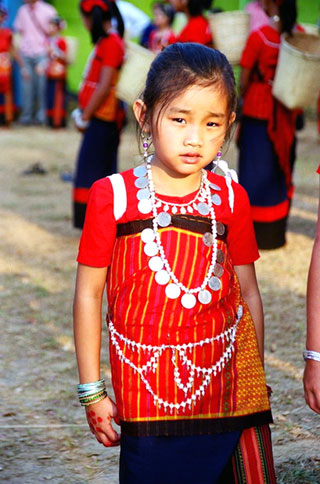 the Bengalis & there is also a large component of the Manipuri community. Tripura has an excellent mis of Hinduism, Islam, Christianity & buddhism: followers of all these religions live in peace. Despite 10 tribes being identified, these belong to four communities - Reang, Chakma, Halam & Lusai communities.
►

Cuisine
When one thinks of North Eastern cuisine, the momos (steamed) & varieties of noodles come to mind. People of the North East are generally non-vegetarian & their staple diet is rice-steamed & somewhat sticky. Sweetmeat is a speciality of Tripura. For fhish eaters, Tripura is a paradise. Another speciality of the Tripura tribals is the Shidal. A special variety of fish - first cleaned & then stuffed with oil & salt. Then placed in a clay pot, covered & buried for three weeks. After three weeks, the Shidal is ready & sold in the market. To most people in Tripura, no meal is complete without Shidal.
►

Art & Craft
Tripura is noted for its exquisite & beautiful bamboo, cane & wooden handicrafts & handloom products including cotton, silk & polyester. Visitors can watch persons at work & end up shopping at 'PURBASHA' & any of the Handloom & Handicrafts sales Emporium in any of the tourist centres including Agartala.
►

Culture
Music and dances are integral part of the tribal people of Tripura. Some of their indigenous musical instruments are the sarinda, chongpreng, and sumui (a kind of flute). Songs are sung during religious occasions, weddings, and other festivals. Each tribal community has their own repertoire of songs and dances. The Tripuri and Jamatia tribe perform goria dance during the Goria puja. Jhum dance (also called tangbiti dance) in the harvest season, lebang dance, mamita dance, and mosak sulmani dance are other Tripuri dances.
►Festivals
The Most importent festivals of the state are Durga Puja, Garia Puja & Karchi Puja. Durga Puja is celebrated in September - October, Garia PUja in March-April & Karchi Puja in July.
►

Flora and Fauna
Tripura hosts three different types of ecosystems: mountain, forest and freshwater. There
are as many as four different wildlife sanctuaries in Tripura, which house a variety of fauna at Tripura. These sanctuaries are called Sepahijala Sanctuary, Gumti Sanctuary, Trishna Sanctuary and Rowa Sanctuary. Many endangered wild animals of Tripura are found in the Sepahijala Sanctuary. One of the most important wild animals that are associated with this part of India, the spectacled langur, is found in the Sepahijala Sanctuary. The wild animals of the Gumti Wildlife Sanctuary include bison, elephant, sambar, wild goat and barking deer. The Rowa Wildlife Sanctuary has many different types of wild beasts and primates. The Trishna Wildlife Sanctuary houses a variety of wild animals like deer, Indian gaur or bison, hooklock gibbon, capped langur, pheasants and golden langur.
Therefore, there is a variety of Tripura fauna, which is one of the main attractions for the tourists who come to visit the state.
►

Access information
BY AIR: The state capital, Agartala, is well connected by air with Kolkata & Guwahati. Flights from Guwahati or Kolkata take less than 45 minutes.
BY RAIL: Tripura is also connected by rail via Guwahati; the nearest rail head is at Kumarghat, which is 140 km away from Agartala.
BY ROAD: Agartala is connected by road with Guwahati via Shillong by NH-44. It takes about 24 Hours by road from Guwahati. Buses are available from Guwahati to Agartala round the clock. Agartala is linked with Kolkata via Dhaka, Bangaldesh through bus route.
LOCAL TRANSPORT: Unmetered Taxis, Pre-paid Autorickshaws & City bus services are available to & from Agartala Airport.
ENTRY FORMALITIES: No entry permit is required.
Agartala > the capital of Tripura is arguably one of the most diversely populated cities of India. Tripura has always been a home to various mixes of tribes and all these tribal amalgamation has led to an influx of people representing [+] read continue...
Authorised Booking Agent of
All rights reserved LINK INDIA TOURS & TRAVELS.
Best viewed with Google Chrome in 1024x768 pixels resolution. Created & Cared by Techno Developers Group.